Deutz-Fahr 5100 Making all the Right Moves
03/06/2020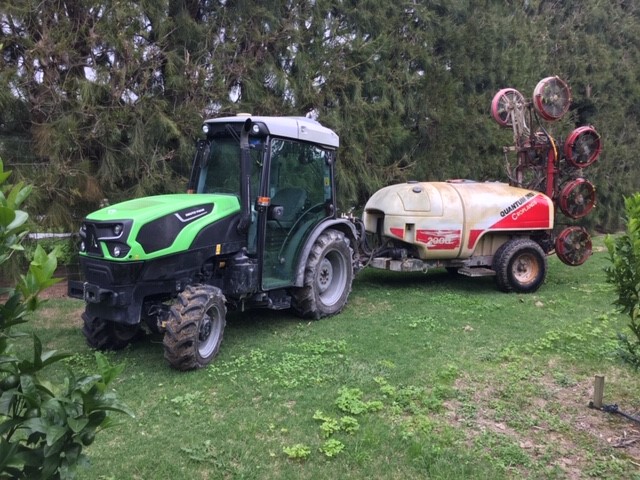 Ross and Tina Lomas are citrus growers on the outskirts of Gisborne, with a four hectare home block of Meyer lemons, and four hectares close by, where they grow mandarins in partnership with Tom and Lynn Grimson.
As the orchards have filled out, particularly in the case of the mandarins, the operation realised that they needed a tractor that was a little narrower, but they didn't want to sacrifice horsepower or the ergonomic benefits of a decent sized cabin.
This led to the arrival of a new Deutz Fahr 5100 F cabin tractor in July 2019, supplied by local dealer Power Farming Gisborne based in Makaraka, and bought in partnership with the Grimson's, who also farm their own block growing traditional oranges.
Featuring a four cylinder, 100hp Deutz engine, that in turn, is mated to a wet clutch/powershift transmission with 45 forward and 45 reverse speeds, the nimble tractor is narrower than the Japanese tractor it replaced, and features a 60-degree turning angle, making it more manoeuvrable and earning its keep powering a sprayer, fertiliser spreader and a heavy-duty three metre mulcher that deals with prunings.
Ross Lomas comments, "The tractor is extremely well put together as you'd expect from a German brand and we've been very impressed by the power available and plenty of hydraulic flow."
The latter feature is particularly important for the operation, as the tractor spends much of its time powering a Quantum Mist trailed sprayer of 2000 litres, and carrying six misting heads that require a significant hydraulic flow- a task the Deutz copes with easily.

Used continuously throughout the growing season, Ross notes, "We particularly like the electronic throttle control, where with a single touch of a button, we can switch from PTO speed to a fast tick-over, make a controlled headland turn at a lower speed and with another push, be back up to operating and PTO speed." He also notes that the 4-speed PTO option of the Deutz means the tractor can work in the 540 Eco Mode-allowing PTO to be achieved at 1500 engine rpm- meaning less cab noise and lower fuel consumption. Lomas also mentions a host of other neat features such as the Stop and Go function that means a push on the brake pedal removes the need to use the clutch for repetitive tasks, alongside intuitive flow and timer functions for the hydraulic functions.
Salesman Peter Rennie, who Ross has worked with over a number of years, advised on a key part of the package to provide the best tractor for the job, while service manager, Kelly Wilson, swapped over and set up the sprayer controls and also undertook some initial operator training. Additionally, the team also carried out a number of "tweaks" that saw some modifications to the exhaust silencer and external rearview mirrors to "shave off" a few vital inches.
Lomas says, "since we've had the tractor the dealership has only been a phone call away if we've had any queries and now we've had the tractor for nine months, we probably need to get them to come out for an hour to show us even more of its capabilities."
Written by Mark Daniel
---