5-Series ups the game in hilly terrains
10/11/2018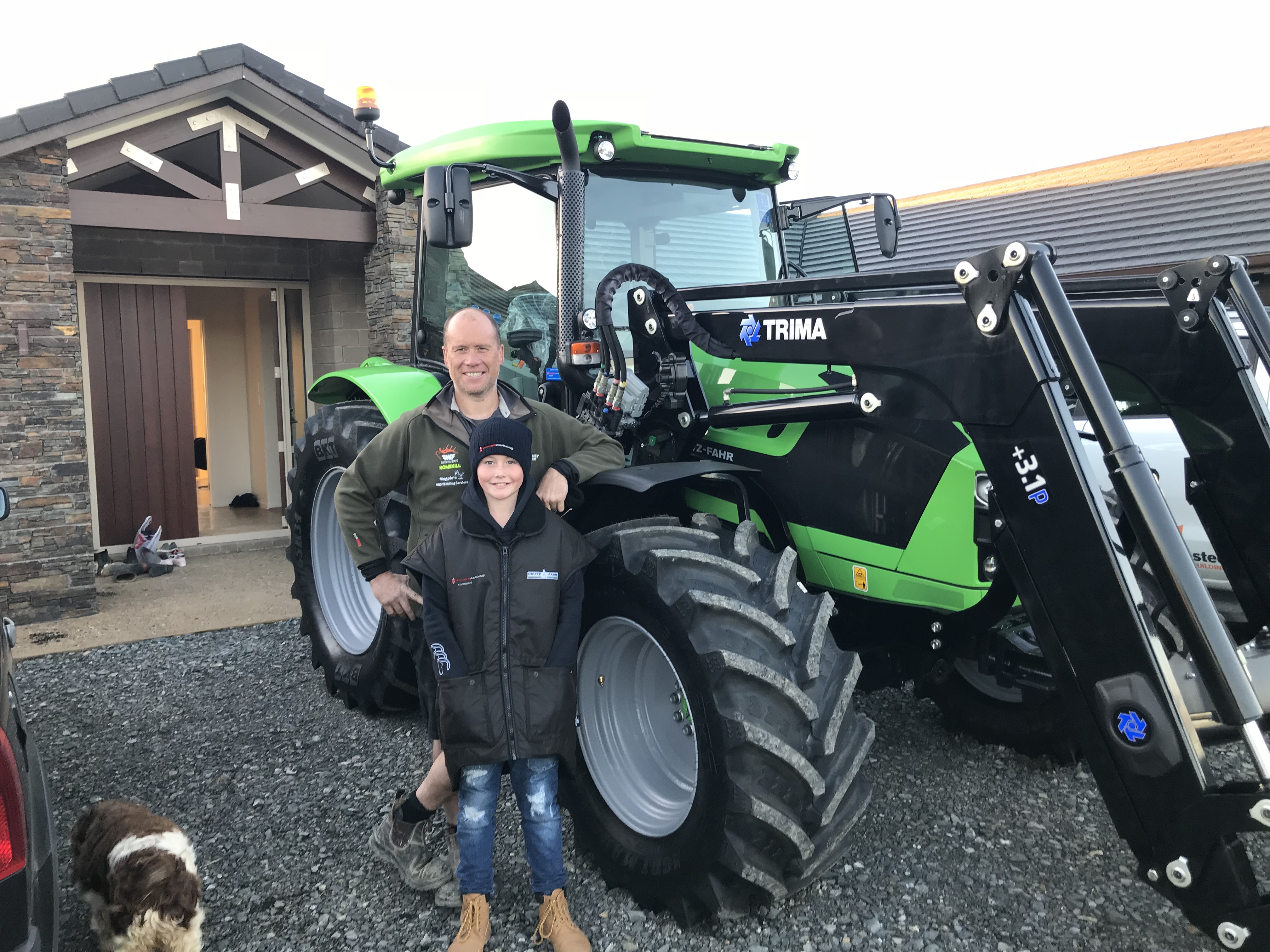 As well as running a successful commercial construction business, Doug Bodley also operates a 300acre farm on the Bombay Hills, south of Pukekohe.
The steep property runs around 100 ewes and lambs, as well as a herd of 50 beef cows and calves, and because of the topography, needs a tractor that is safe to operate and delivers peace of mind. Having already had experience of Deutz Fahr tractors, in the shape of an Agrofarm 420 that has been at the property for three years, Bodley recently decided he needed a little more horsepower then than 100hp the 420 had on offer
The arrival of a new machine delivering 120hp, has been addressed by the 5120, but also brings with it several new features that make it more productive, easier to operate, and importantly very safe.
Power comes by way of a Deutz TCD 4-cylinder engine of 3.6 litres, electronically controlled and meeting the latest Tier 4i emission regulations. Part of the design sees that engine delivering maximum torque of a rev range from 1900 down to 1200 rpm, this offers the ability to "hang on" as conditions get tough, and removes the need to hunt for gears.
The transmission layout sees a wet-clutch, Power Shuttle/Power Shift layout that offers a unique 60 forward and 60 reverse speeds. This is achieved with a choice of 5 speeds on the main gear lever, 4 ranges and 3 powershift steps. A column-mounted Power Shuttle lever resides below the steering wheel and offers clutch-less forward or reverse direction changes, and incorporates the Sense-Shift control, allowing the choice of 5 stage shuttle aggression, meaning settings can be tailored to the job at hand. This might mean a more aggressive setting if digging into a pile of topsoil, or gentler when requiring sensitive positioning of fragile loads. But perhaps, the star of the show is the rather neat Stop and Go function.
After selecting a forward or reverse direction with the Power Shuttle lever, the tractor can be brought to a stop by simply pressing the brake pedal. This has the effect of cutting the drive smoothly and safely at speeds of up to 12kph, but also allows the operator to select a change of direction. Releasing the brake pedal re-connects the drive, allowing the tractor to move off smoothly in the desired direction. This proves ideal for loader operations and when implements are crowded or raised and it also proves useful for repetitive headland turns.
As part of the package the tractor is fitted with a Trima loader, that is unique in that it is equipped with the company's unique Easy Drive loader control system, that takes the form of an electronic, thumb-controlled joystick for all loader movements. The system also offers a degree of proportional control alongside delivering a digital display, and switch controls for third service and suspension.
As Bodley notes "The 5120 gives us a low centre of gravity, 4WD and 4-wheel braking- all great features on our slopes. Add to this that extra 20hp, that has made a huge difference to pulling our 8-tonne tipping trailer, and most importantly, we feel safe doing so."
---