Deutz Agrofarm - A hit with Wairoa farmer
24/01/2019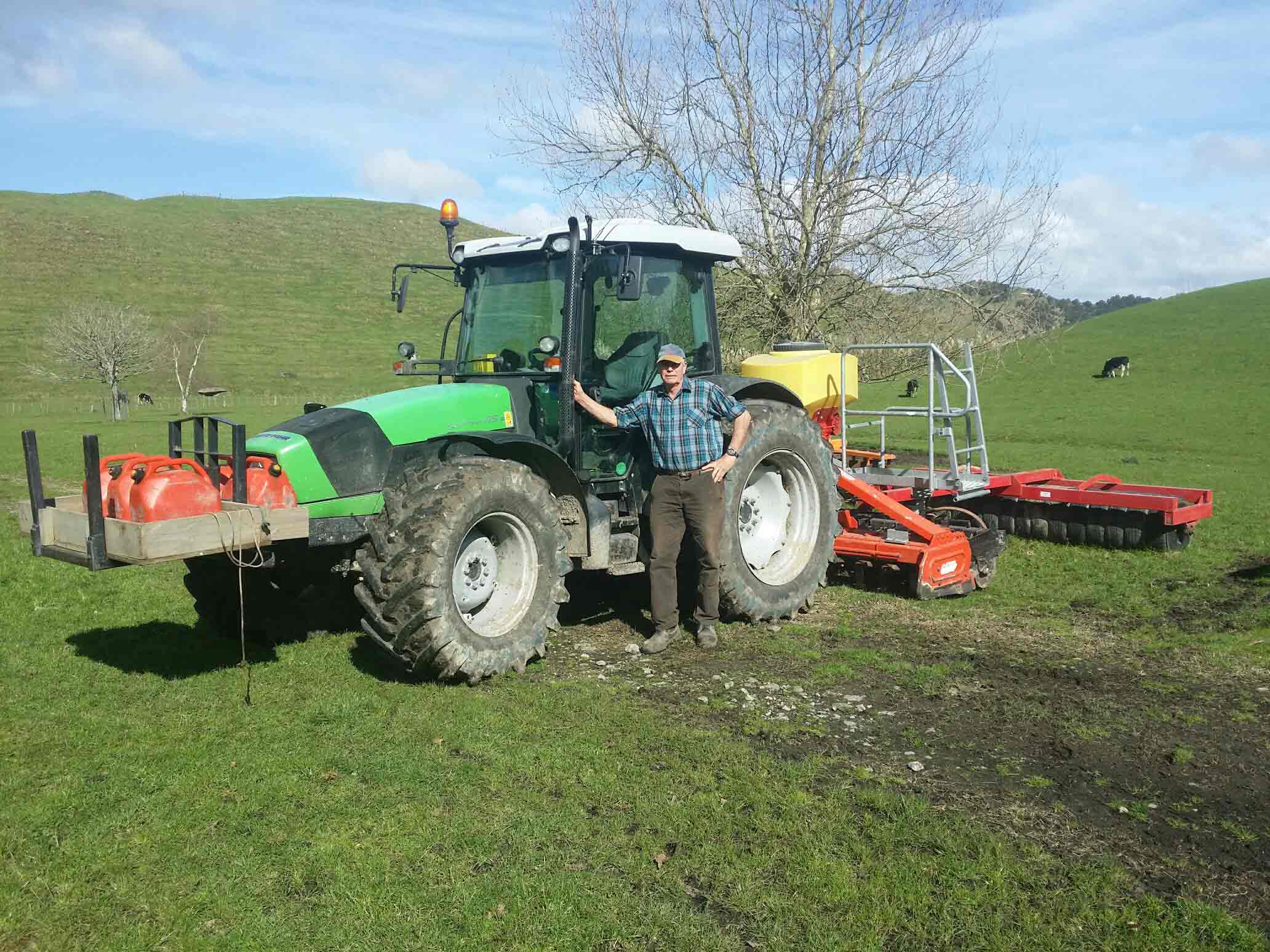 "The answer is yes". This is the positive response you get from Darcy Hamilton when you ask if he would buy another Deutz-Fahr tractor. Located just outside Wairoa in the Hawke's Bay, Darcy runs a 150ha bull rearing farm with help from his daughter in the busy spring and autumn periods. During those times, much of his time is spent offering contracting services up to 60km's from home base.
His contracting hours are spent on tough hill country blocks throughout the region, so when Hamilton was looking to change his tractor, high on his wish list was a low centre of gravity. The Deutz-Fahr Agrofarm 115 arrived in 2015 and has since clocked over 2500 hours undertaking a wide range of tasks.
Powered by a 4 litre, 4-cylinder SDF 1000 series engine offering a gutsy 115hp, the powerplant is mated to a wet-clutch-power shuttle/powershift transmission offering 40 forward and 40 reverse speeds, through five main speeds, four ranges and two powershifts. Hamilton notes that the configuration, complemented by a 4-speed PTO system incorporating Eco Mode delivers excellent fuel consumption, as low as 60 litres over a 10-hour working day.
One feature that brings praise from the seasoned operator is the braking system that utilises oil-immersed discs on all four wheels, meaning safe stopping is assured in steep country and also allows side braking via a valve to 'pull' the tractor into the work when traversing difficult areas. Undertaking a variety of tasks from discing, spraying, power harrowing with a mounted APV air-seeder, or direct drilling with a 2.7 metre Aitchison drill, the compact 115 is surefooted in all situations.
Unlike many operators in the area, Darcy chooses to operate with a single rear wheel configuration with the wheels set wide, to allow access through the typically narrow gateways in the area, and to get into tight spots. The tractor cabin, whilst basic in some on-lookers eyes, suits Hamilton and the prevailing conditions. He favours the lever-style controls that operate directly on valves or transmission components, meaning there are less electrical connections or buttons, offering a level of simplicity in tough conditions that ensures jobs are always completed.
The cab offers comfort via an air-suspended seat, an adjustable steering column and great visibility, helped as Hamilton notes, by the absence of a front-end loader. Dealer support from Power Farming Gisborne, although rarely needed is only a phone call away, giving Darcy the confidence that the tractor will perform for many years to come, while at the same time keeping the bottom line on the right side of the ledger.
---