Deutz-Fahr the 'go-to' tractor
09/03/2019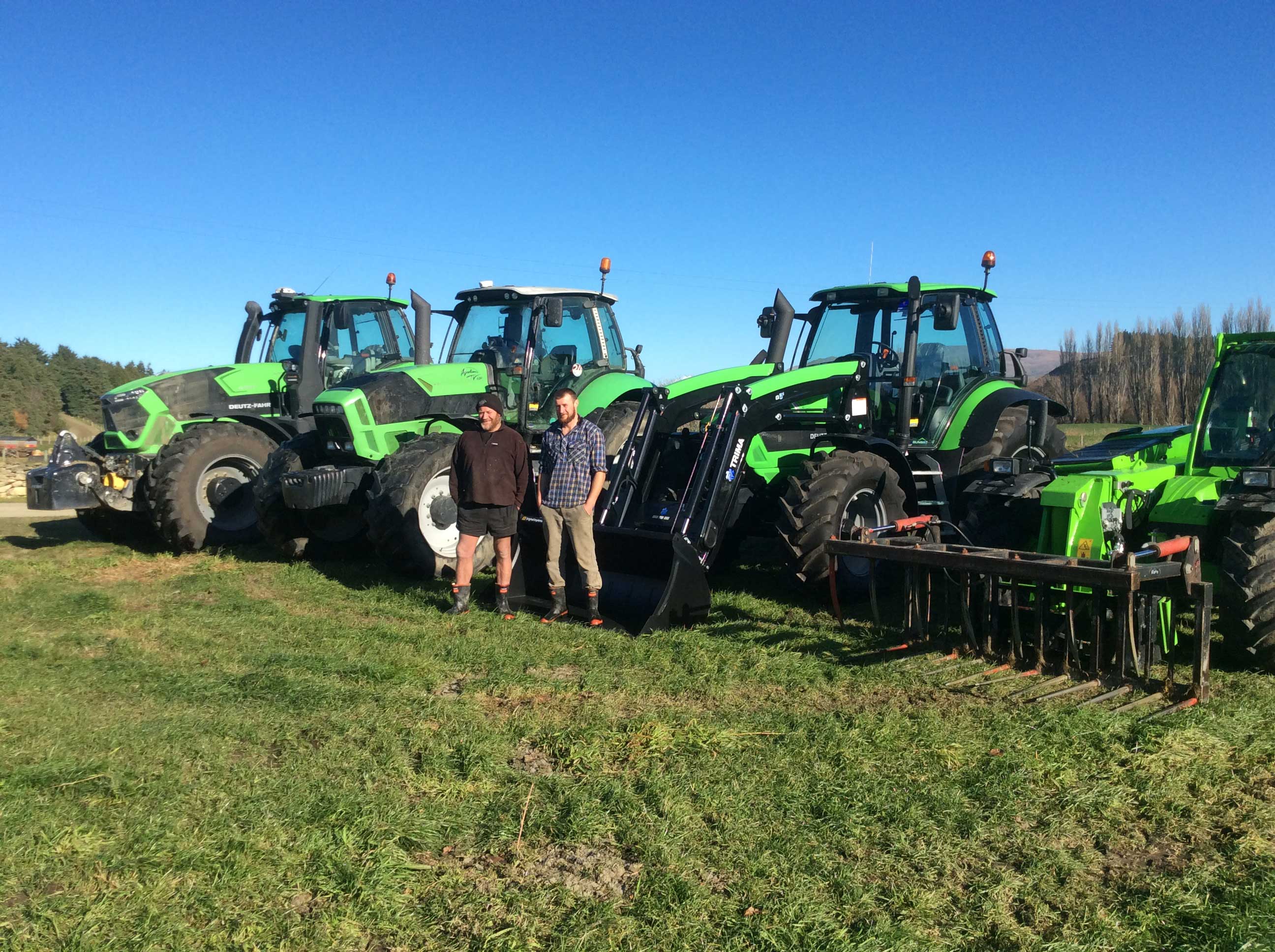 Originally from the dairying heartland of the Waikato, the Fenwick Family 'emigrated' to the mainland around 18 years ago, setting up shop at Duntroon in the Waitaki Valley establishing Grandview Dairies. Today, the operation milks 2,300 cows on a 615ha platform with three milking sheds, complemented by a nearby support block that carries 600 R2 heifers on 324ha. Steve and Maylene have obviously passed on their love of cows, with son Dean taking a 22% share-milking contract for one of the herds that commenced on June 1st 2018.
As with many dairy operations, tractors and machinery are a means to an end, but with close to 3,000 head of stock needing attention in the case of the Fenwick's, there is a need for reliable, productive tackle to get things done. At Grandview the choice of tractors falls to Deutz-Fahr, with the two key prime movers being a high-tech 630 TTV and 9340 TTV. The former arrived on the property around 5 years ago and currently shows 4,000 hours, while the larger 9340 appeared around one year ago and shows 400 hours.
Both tractors feature Deutz fuel efficient engines, that in turn are mated to ZF-sourced stepless transmissions that deliver precise speed control over a wide variety of tasks. The smaller 630 pushes out around 230hp and is the "go-to" tractor for tasks such as urea application, undertaken with a high-tech Vicon Geospread unit, that with an eye to the future, provides proof of placement for regulatory organisations while making use of the tractors GPS system for accuracy of application. The 630 also pulls a high capacity feed trailer, while during the cultivation season also finds plenty of work ahead of a 9m MaxiTill or roller set.
With the arrival of the 9340 in 2017, the 630 was given a breather from pulling the operations 5.5 metre Simba Express cultivator, a task that Fenwick admits left the tractor a little "breathless" on the farms rolling terrain. Now with 340hp on tap, the big Deutz is finding plenty of work, typically establishing 130ha of cropping centred around 30ha of fodder beet and 100ha of HT kale, with the latter sown to Oats after grazing to provide a silage crop in November. Add to that a regime that also sees 40ha of turnips and 60ha of grass reseeding, then the 9340 isn't often idle.
Steve Fenwick sums up the decision to use Deutz tractors by commenting, "Both the 630 and 9340 have plenty of power and plenty of weight that in turn equals great traction. This allows us to be boss of any job and get things done quickly, often in short timeframes because of weather or crop requirements. At the same time, they also offer us a degree of spare capacity for the future". He goes on to describe the ease of use, particularly with the help of GPS, but also smart technology like headland management. That controls machine sequences to make easy turns, which can also be stored and recalled when the machine is used again in the season.
Also getting a big 'thumbs up' is supplying dealer, Power Farming in Timaru, who are only a phone call away and committed to get things back on track if there is a breakdown. The performance, reliability and local support is obviously catching, as Dean Fenwick also chose Deutz-Fahr, in this case an M620 for his operation.
The final part of the Grandview operation is the introduction of a Merlo 35.7 telehandler, again sporting a Deutz engine that in the six months since its arrival has become an integral part of the system. With 115hp on tap and the ability to lift 3.5 tonnes to 7 metres, the Merlo feeds out silage, moves the raft around the effluent pond, loads and unloads trucks, while also moving big bags of seed at planting time. Fenwick sums up, "The arrival of the Merlo has changed the way we do things-I really can't believe we took so long to bring one into the operation".
---