The move to Deutz-Fahr
22/10/2019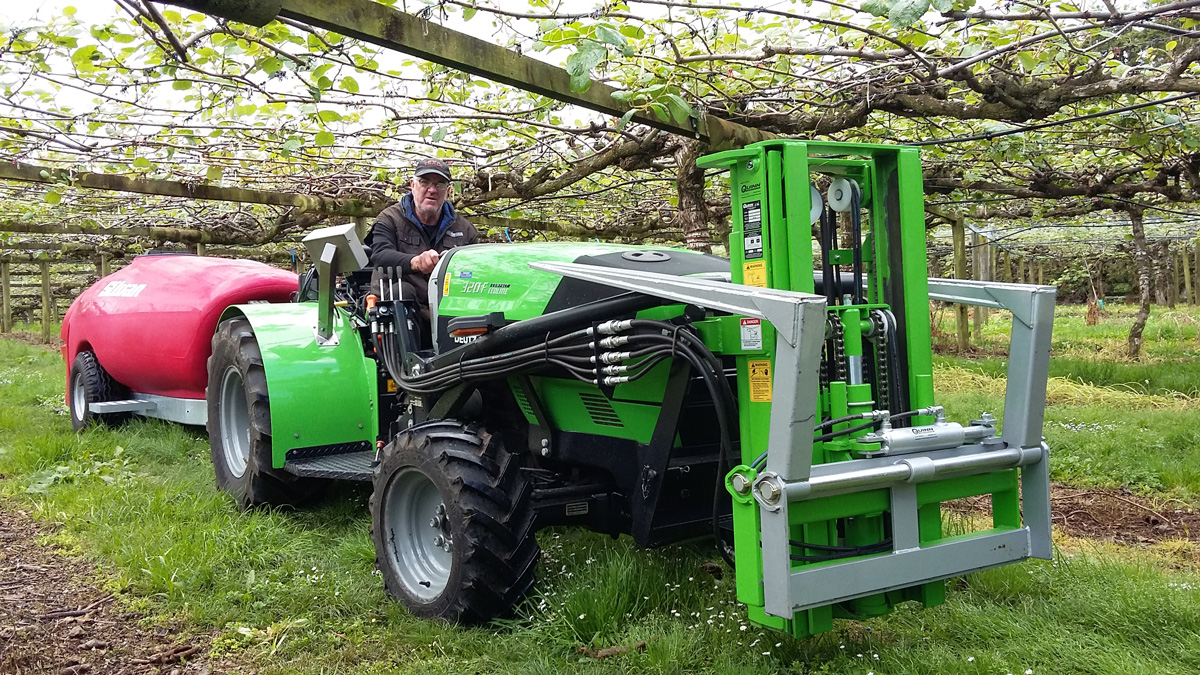 Roger des Forges, trading as Harvest Moon Limited, grows kiwifruit on two properties in the Waihi area, with 3ha growing a 50:50 split of gold and green and the other orchard producing 2ha of green.
Although a little coy about his actual age, des Forges lets slip that he's been involved in the industry for more than 40 years, so has seen several changing cycles with issues like pricing and more recently, PSA.
Operating a traditional pergola system, that brings with it the constraints of limited headroom, Roger relies on a tractor that has dimensions to allow access but also delivers enough power to get the job done.
Back in June 2018, local Power Farming dealer Capital Tractors, delivered a new powerhouse for the operation. A Deutz-Fahr F320, a brand new four-wheel drive tractor to replace an ageing 2WD tractor that had been at the property for many years.
To deal with the headroom of the pergola layout, the Deutz has been 'orchardised' so that the standard rear fenders are replaced with heavy-duty tyre-hugging items, the seat is lowered to improve headroom and the footrests are re-engineered to improve operator comfort.
Despite its compact size, the tractor pushes out 82hp from its 3-cylinder, turbocharged SDF engine that in turn, mates to a 30F/15R speed transmission controlled by a dry-clutch synchro-shuttle layout. A speed range from under 1kph to a 40kph maximum means the tractor is well matched to a wide range of jobs, with the latter ideal for a quick dash between locations.
Now with 300 hours on the clock, the tractor spends time hooked up to a Trimax mulching mower that deals with pruning's and keeps the orchards tidy, alongside providing the motive power for the operation's Silvan Stiletto spray rig. Upfront, a recently fitted front-mounted Quin forklift unit will no doubt come into its own when harvest season comes around.
Looking at some of the key features of the F320, Roger notes that the independent PTO clutch allows engagement of rear implements in a controlled manner, removing stress and shock loadings on the tractor and machine drive lines. He also sings the praises of the electronic throttle control, activated by a single button push. Roger said, "It's just like cruise control- we just set one speed for the PTO implement on the rear, then as we hit the headland use one touch to bring things back to tick-over for a controlled turn at the headland."
Des Forges also comments on the tractors ability to keep going when ground conditions are less than ideal, commenting, "In this part of the country it can often get very wet underfoot, so the arrival of a tractor with 4WD and a 100% locking diff means we just don't get stuck I also think the 2.5 tonne weight and a low centre of gravity gives the unit great traction."
Working in the tight confines of kiwifruit orchards, a 60-degree steering angle and a 3.6 metre turning radius mean manoeuvrability is never a problem. Add in power steering and integral braking on all four wheels means the tractor is equally suited to work in the orchards, or transport duties between sites.
Roger sums up the purchase with a positive note, commenting, "We are more than happy with the move to Deutz-Fahr and would have no trouble recommending it to anyone looking for such a tractor. It just gets on with the job with no fuss."
Written by Mark Daniel
---